Huddersfield Fashion Graduate Show was shown at Lawrence Batley Theatre in Huddersfield.
Some collections were surprisingly artistic and there is an undeniable amount of talent.
However I myself saw some collections seem rather costume orientated.
For my second year fashion writing I will be writing about Nicola Tracey whose collection was beautiful.
Nicola was inspired by love letters sent between her Grandma and Grandad during the 1940s.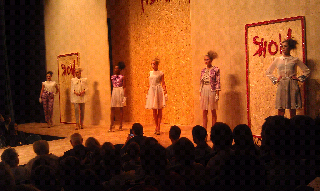 She then looked at her Grandma's life throughout the 40's and took inspiration from this era.
Personally I myself love the 40's.
She also looked at Pearl Harbour and a 1940's event for inspiration.
I love her collection with pleated skirts and my favourite pieces are the floral jacket and the scalloped hem cardigan with a pussy-bow tie. Every item is adorable and you can tell Nicola is a fan of Miu Miu and Chloe. Her collection is ladylike and romantic.
The whole collection was just perfectly made, fitted and each piece flowed with class.
Definitely a young designer to look out for in the future.
Ironically Miuccia Prada showed her A/W collection for Miu Miu today.
She described the collection as;
"sweet, charming, feminine, nice — and always thinking of the important woman."
Resulting in a beautiful '40s-inspired collection.
To see the collection here's the link: